Great rewards for returning players and new accounts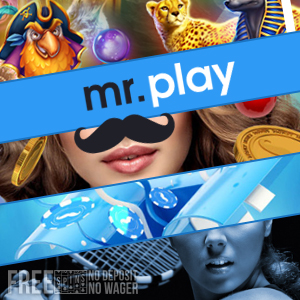 You know that our mission here is to hunt down the best free spin and matched deposit casino bonuses we can find, right? And even if I say so myself, we do a bloody good job! But one thing that I'm being asked a lot recently is are there any casinos that reward players for their loyalty as well as just for opening up a new account?
Well, that's a very fair question. If you can find a casino that gives you a great bonus but then keeps handing out freebies to players who come back then you're on to a winner. I'm pleased to say that one of our favourite casinos, the delightfully moustachioed MrPlay, decided to do just that.
What's the point?
Loyalty, that's the point. Everyone who plays at MrPlay.com now gets rewarded with their new Loyalty Points scheme.
Every time you play, be it a spin on the slots, a flutter on the tables, or a cheeky sports bet, you'll be rewarded with points.
What do points make?
Well, the chance to win cash and juicy prizes for a start! MrPlay.com also has a 7-tier VIP scheme – the more points you collect, the further up that illustrious ladder you climb.
Rewards include free bonus spins, bonus play days, and special live VIP-only tournaments. And the best reward of all – bonus cash!
Not only that but if you climb to the top echelons you'll even be given your own personal VIP account manager who will do your every bidding… Nt really, but they will handle your account in person and make sure you get first-class treatment and access to the very best bonuses the casino has to offer.
I Don't Like Mondays
I didn't either until I signed up with MrPlay.com. They understand that starting the week can be a bit of a downer, and so they now offer a special Monday Reward scheme for new players for their first month as a member.
Every Monday, you get a 50% reload bonus when you top up your account. Yes, every Monday. That's at least 4 boosts to enjoy. Just top up your account using the special code "MONRplay".
And for slots fans like me, they open up a £1,000 prize pool for the top 30 slots players. The more you play, the more points you collect. You can track how you are doing with a live leaderboard, and see how close you are to being in the top 30 and snaffling some real cash.
Double or Quits?
No, I'm not finished – there's more!
On selected days and with selected games, MrPlay.com now offers Double Points. This means that for 24 hours, loyalty points you earn playing that game are doubled. This can make your journey up the VIP ladder really quick.
And it's worth heading up, because the higher VIP level you are, the fewer points you need to term them into bonus cash.
For example, at the Bronze VIP level, you need 30 points to redeem a £1 bonus. However, if you shoot yourself up the tree to Prestige VIP level you'll only need 15!
There's No Place Like Home
We think that MrPlay.com is a great looking casino that's well laid out, easy to navigate, with excellent support and help. It's great to see them rewarding customers who like to stay and play, rather than just offering a bonus to those who open an account, make one deposit, and then never come back again.
You Need to Play at MrPlay
I like the way they are mixing it up, offering both a loyalty scheme and individually timed or game-specific bonuses. The Monday rewards are fantastic – I don't know of anywhere else that will give you a 50% reload boost every Monday for a month. That's a truly excellent deal, and I highly recommend you sign up for an account today. Already got an account? Get back in there and play some more!